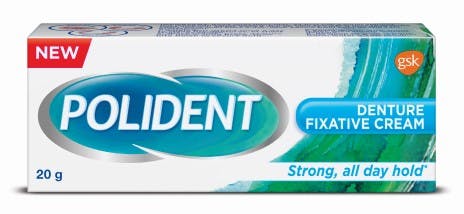 Polident denture fixative or adhesive cream is formulated to give you an all-day hold*,1,2, which lets you get on with enjoying your day.
It is free of artificial colors and flavors, so that it does not interfere with the taste of your favorite foods
Polident Denture Fixative Cream
Applying
Clean and dry your denture(s).
Apply a small amount of Polident Denture Fixative in short strips, not too close to the denture edges.
Rinse mouth before inserting denture(s).
Press into place, hold firmly, and bite down for a few seconds to secure.
Do not apply more than once a day.


Removing
Swish water around your mouth.
Slowly remove dentures using a rocking motion.
Remove fixative residue from dentures and mouth with warm water and a soft brush.
* Tested on full dentures. 12 hour is considered equivalent to 'all day'
1. Norman, R.D., 'Evaluation of the retentive properties of a Gantrez cream adhesive (formula 097-792), Gantrez cream pump adhesive formula (097-951) and current Super Poligrip', GSK study 143(1988).
2. Norman, R.D., 'Efficacy study of a denture adhesive to reduce denture dislodgement while eating corn on the cob or apples', GSK study 406(1990).